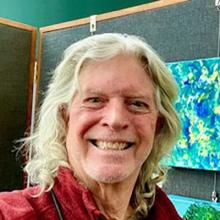 Utah is an amazing place to live and the longer I live here the more I discover just how much beauty is out there.  As an artist, I feel like the world around me offers gifts of beauty nearly every day.  Our clouds are magnificent, our mountains are majestic, our canyons are stunning, and our red rocks are truly out-of-this world.
My goal as an artist is to translate these experiences onto a canvas in a way that captures how I responded to the scene.  I might have been stirred by the dramatic light of a backlit cloud or the intense colors discovered during an early evening stroll.  Or perhaps, I was moved by spotting a sweet mule deer on a snowy trail.
I hope this collection of impressionistic paintings inspired by the natural beauty that surrounds us brings you joy as you view them.
Currently, I teach art at the Visual Art Institute in Sugar House (2901 S. Highland Drive) and am a Signature Member of the Utah Watercolor Society. I try to paint as much as I possibly can and I welcome commissions.