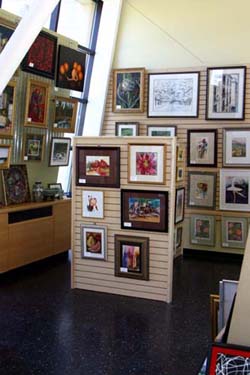 Art at the Main, located in the atrium on the ground floor of 
Salt Lake City's Main Library, is a co-operative art gallery showcasing the work of some of Utah's best local artists.
In addition to providing promising artists a venue to show and sell art, Art at the Main hosts informative and educational art events for the public, including featured artist receptions, art demonstrations, and classes for children.
Art at the Main believes that an educated public will appreciate fine art and support a thriving arts community, which will make Utah an even better place to visit, live,and work.
We are continuously looking for prospective member artists working in these mediums: mixed media, watercolor, oil, acrylic, pastel, pen and ink, pencil, prints (etchings, monotype, silkscreen, lithographs), hangable fiber art, small 3D sculpture, glasswork, and pottery.
For information about joining the gallery, click here.