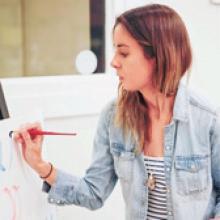 "What a lonely place it would be to have a world without a wildflower!" – Roland R Kemler
Spring has arrived here in Utah and its arrival brings the gift of many different wildflowers over the next few months. The diverse geological landscapes Utah has to offer, with the mountains in the north and deserts in the south, means we get to enjoy a large variety of many different wildflowers that is unlike any other state.
Over the last three years of painting and studying wildflowers all over the world I have come to learn that specific wildflowers can be so important and personal to people's individual lives. Whether it's the wildflowers they see on their current favorite hike or a memory of a loved one who once told them their favorite wildflower. Whatever the story may be it is always a happy memory associated with wildflowers. 
The paintings in this exhibit include twenty-three brand-new watercolor paintings of twenty-three different wildflower species that are commonly found in Utah and its bordering regions. Every wildflower variety was carefully selected based on popularity, scientific population, and overall beauty.
After a very long winter in Salt Lake, I hope my first featured art show makes you look forward to the months of beautiful wildflowers we have ahead!
Contact Jessica for information and/or purchase.