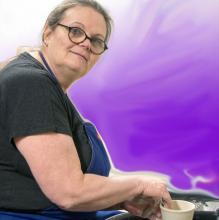 Each of us separates different aspects of our lives and personalities into numerous compartments, encapsulating and containing various spheres and avoiding overlap between areas, seeking a semblance of balance. 
For my featured artist exhibit, I want to convey these separations in what I call
"Encapsulation Theory" and show random beauty in my accompanying works.  I've been working mostly in pottery for the last 6 years, though I continue painting in watercolor.
 I hope you'll enjoy the selections I've chosen to encapsulate.
All the best,
Neena Plant