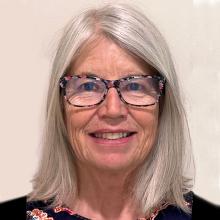 As a kid growing up in Idaho, I always loved to draw, scribble, paint and generally mess things up and I am grateful my parents allowed me to do this.
I attended Utah State University, graduating with a BFA before launching off to Los Angeles where I worked in commercial illustration– and eventually I returned to Logan, Utah and met my future husband, Jim. We are the parents of four children. I completed a Master's in Math and Statistics at USU; working and teaching statistics for twenty-five years; all the while I kept up painting and drawing.
I am excited to join the artists at Art at the Main. My work is currently on display in Prince Gallery and Logan Fine Art, Logan, Utah, as well as Art At the Main at the SLC Library
For me, the creative process is demanding, one that never ceases to challenge those hardy souls brave enough to take it on. To be able to create something truly beautiful is a lifetime aspiration; it takes many hours of dedicated work to acquire the skills necessary to produce art.
To devote one's life to this pursuit is a rewarding endeavor.
Contact Roxane for information and/or purchase.
Facebook: @RoxanePfisterArtist
Instagram: RoxanePfister