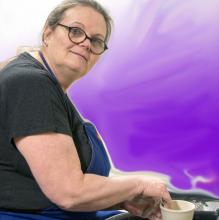 I'm highly attracted to functional pottery that uses unique design features, and strive to make my own works more inventive, and apply my overall experience as an artist to my pottery designs. Each piece is one of a kind. I love wheel-thrown forms and like to embellish them with additional hand-built elements. I'm also fond of hand building sculptural pieces, though I'm just getting started in that area. My favorite clays to use are porcelain and have been looking for the ideal black clay.  I prefer a high-fire clay body, even though I fire to a midrange temperature for the better variety of available commercial glaze colors.
I originally learned wheel-thrown pottery at Pioneer Craft House in the Salt Lake valley, along with lapidary and silversmithing. Because there was a long gap after my initial coursework, I re-learned wheel-thrown pottery by watching several online teachers via YouTube. Now wheel-thrown and hand-built pottery has been my main artistic focus for the last five-plus years.
My career as an artist began as a child, drawing and painting regularly, and has included five years full-time work as a graphic artist, as well as many years of volunteer work for Utah Watercolor Society.  I still paint in watercolor on a semi-regular basis. I also use my photographic skills to showcase my pottery online.
Contact Neena for information and/or sale.