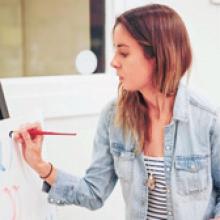 I started doing freelance art and calligraphy design full time in 2016 when I started Tocci Calligraphy as a custom wedding invitation and calligraphy design company that combines watercolor art with hand-lettered calligraphy to create unique designs inspired by all things botanical. Today, it is a full-service art design company that focuses on creating original watercolor artwork and stationery design by offering an array of water-colored floral stationery cards and art prints that are ready to order online.
My watercolor paintings show a modern perspective on a floral-themed design seen throughout art history. Works ranging from simple small botanical illustrations/watercolors such as the ones used to record science in the 19th century (artist Pierre-Joseph Redoute' is my favorite). To larger detailed still-life paintings of colorful floral arrangements inspired by the Dutch Golden Age. As well as modern watercolors of closeup florals inspired by artist Georgia O'Keefe. I love being able to travel and draw in so much inspiration by seeing the world's greatest art museums and to be constantly learning art history.
I have been slowly pivoting to selling more of my original watercolor paintings via social media, Etsy, and now at Art at the Main!
Contact Jessica for information and/or purchase.