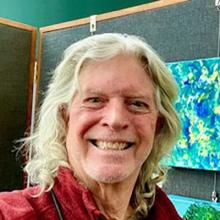 Color, energy, creation, transformation…
Using innovative techniques I manipulate paint to capture dynamic color energy in the process of transformation.
Colors are light energy frequencies. We perceive light wavelengths from 400 to 700 nanometers as colors. Colors are energy, colors are relational. My paintings have evolved over the past 30 years to be quite different from the norm…complex dynamic unities which each viewer is invited to enter as a new experience.
I believe we live in an amazing world that can be perceived as a mystery that is always dynamic, and the fact that we've been given a chance to experience this awe-inspiring world itself is a wonder….this is the mood I capture. 
Light, color, energy, humans, waterfalls, planets, stars, galaxies; all are energy coalescing & transforming before our eyes, like the morning mist rising & revealing a hidden lake….when suddenly your internal dialogue ceases.
Contact Jeff for information and/or purchase.
also online at  https://www.flickr.com/photos/jeffonflickr/