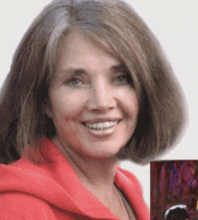 Joan, originally from upstate New York, has lived in Salt Lake City since 1978.  Besides being a painter, she is also a psychologist.
Joan has been painting in water medium since 1999. Her art is often whimsical.  As a viewer and an artist, she finds art with whimsy fun, creative and totally engaging.  She tries to go beyond the image itself and create a dynamic between the viewer and the art.   Painting subjects with disparate colors, actions and sizes is one way she does this.  Applying washes she finds the beginnings of such things as red cows, blue rabbits, orange sheep and oversized birds.  Being very much influenced by her environment, she paints scenes that capture her emotionally, whether it's a pink sheep, a snow covered field, flying fish  or a romantic European street or countryside. Recently, she has been using more mixed media  to create a textured background that encourages freer expression. 
Teachers and artists she has studied with include Susan Gallagher, Jeff Maugher, Willamarie Huelskamp, Ron Ransom, Christopher Schink, Alvara Castagnet and Steven Quiller. Her work has been in juried shows at the Utah Women Artists Exhibition and two of The World of the Wild exhibitions at Utah's Hogle Zoo where her painting was selected by the Utah Artists Council to travel to selected sites throughout Utah.  She is also a Signature Member of the Utah Watercolor Society. Exhibition sites include Evergreen Framing Company and Gallery, Inc., Traces Art in the Garden, Michael Berry's Gallery, Red Butte Gallery, Art in Pilar's Garden, Magpie's Nest and Ogden Union Station.
Contact Joan for information and/or purchase.