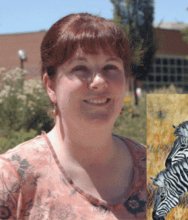 "Painting is how I convey the connection I feel to the wondrous animals of our world, their reality, separate, yet accessible. I am endlessly fascinated by these other lives, the similarities and differences between them and us, and the wonder that we can communicate with them.
Watercolor is my chosen medium, I love its immediacy and the way the colors blend and flow together, as naturally and elusively as the animals I paint. No other medium has caught my imagination the way watercolor has.  I don't consider a painting a success until the animal seems to live and breathe on the page, so you can almost know what it is thinking. I always paint the eyes first for this reason. I enjoy playing with colors and exploring what the watercolors can do. Like John Singer Sargent, I want to see how many colors can go into white.
Recently I was privileged to go to South Africa on safari. Seeing the animals in the wild, where I was the one behind the fence. It was very inspiring. We were able to watch them in their element, acting naturally, seeing them in a way that the zoo or TV just can't match. I am trying to capture their energy, the colors and feel of that world in my art."