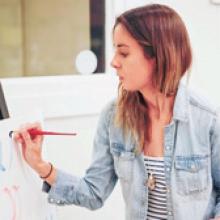 My Artist's Statement:
My watercolors express the things that are meaningful to me including travel, hiking, skiing, animals, friends and family. Whether on the road or hiking in the mountains, I usually have a sketchbook in hand. I try to capture the feeling of the moment, such as the magic of a misty waterfall, the stunning beauty of a vista, or unusual light patterns shining down on a cobblestone road. Sometimes I'm able to complete a painting while onsite.  Usually, however, I take my sketchbooks back to my studio to create a finished piece that captures a feeling and tells a story.
In addition to doing studio work, I teach watercolor and art classes at the McGillis School and at Visual Art Institute in Sugar House in Salt Lake City, Utah.  I am passionate about painting, but I also love sharing this artistic journey with others. I have been painting with watercolor for over 25 years, am a signature member of the Utah Watercolor Society and have been an active board member for over 5 years. 
Although I am a native Oregonian, my husband and I raised our children Salt Lake City.  Now empty nesters, we plan on staying put with our standard poodle, Raffi, and our grown kids nearby.  
Contact Barbara for information and/or sale.